Everything from action-adventure to indulgent bliss.
On a luxury yacht charter in the Leeward Islands, sophisticated island glamour blends effortlessly with Caribbean island culture. As your yacht floats through clear sapphire waters from exclusive Saint Barths down to wild Dominica, you'll find that each Leeward island has its own individual character, from action-adventure to indulgent bliss…and everything in between.
Saint Barths
On the ultra-chic French island of St Barthelemey, an old donkey wanders past the window of a Hermes store, and a celebrity wearing a flowing white kaftan and gold sunglasses emerges from a boutique loaded down with shopping bags. Down at the port, opulent superyachts shine in the sun and champagne flows freely at nearby beach clubs and bars just dripping in laid-back glamour. Over the hill, down through the cool jungle, all is quiet as you come out on a beach straight out of a dream, where sapphire waters meet silky soft sands and coconuts wash up on the shore.
Verdict: Saint Barths is certainly a champagne-and-caviar island, spiritual home of the partying jet-set, but it is also a peaceful island of great beauty- of coral reefs and jungle and volcanic hills rising from a turquoise sea. On your yacht charter, explore, dive, windsurf, hike, party till dawn…or just bliss out completely in one of the planet's ultimate luxury destinations.
Anguilla
Anguilla is the new darling of the jet-set in the Caribbean, and she knows it. Colourful clapboard shacks sit amongst the lavish spa resorts, and palm trees line quiet beaches of sugar white sand and waters of a dazzling blue. Whales and dolphins play in the crystal clear sea, dive wrecks sit on the sea floor and superyachts come to drop anchor off her perfect shores.
Verdict: Anguilla is a smaller, more tranquil version of Saint Barths- but make no mistake, it's an exclusive retreat-and sheer bliss for fine dining, watersports, indulgent spas and relaxing in a hammock by the water's edge.
Antigua
In Antigua, heavy British cannons still face out to sea, waiting for the pirates, smugglers and French battleships that once lurked in the secluded coves of this beautiful island. Rolling green hills and disused sugar plantations slope gently down to perfect sandy beaches, where rustic beach shacks sell burgers and Pina Coladas and elegant restaurants serve candlelit tables under the waving palms. On the water, sailing yachts race along the stunning coastline on the trade winds, their huge cream sails snapping against a perfect blue sky. At night, many of the yachts return to port and the fun begins: reggae plays from rum bars and steel bands play on the beaches in the Caribbean moonlight.
Verdict: Antigua feels completely different from St Barths and Anguilla; warm, friendly and (dare I say it) not at all pretentious. That's not to say there aren't exclusive resorts, fine restaurants and luxurious spas (for there are, and quite a lot of them); it's just that this island is less showy, with the celebrities hidden away at secluded retreats. More importantly, there are literally hundreds of exquisite beaches to anchor off- many of which can only be reached by yacht.
St Kitts and Nevis
On Nevis, a furry-faced monkey jumps down from the jungle canopy and scampers cheekily along the beach, past cocktail bars with thatch roofs and tables resting on the sand. Nevis Mountain towers above, its peak swathed in clouds, sloping down to where coconut groves meet golden beaches. Across the water the fertile peaks and valleys of Saint Kitts rise above the clear blue sea and magical coral grottos lie beneath the surface.
Verdict: Saint Kitts & Nevis is rising. With a new luxury yacht marina putting these islands firmly on the superyacht map, this 'Secret Caribbean' of rainforest, volcanic mountains and golden and black sand beaches will soon be a lot busier. For now, this is a place for hiking, swimming and snorkelling the coral reefs- and watching that a monkey doesn't steal your cocktail!
Montserrat
On the lush mountainous island of Montserrat, the vengeful volcano still bubbles and steams. In its shadow lies the ruined city of Plymouth, the buildings buried in a thick crust of lava from the 1995 eruption. Deserted houses up the hill are slowly being claimed back by jungle, vines and roots cracking the bricks and mortar and pulling off corrugated roofs, and where plates still rest on kitchen tables from where they were abandoned in the rush to escape the burning red flow. There's an apocalyptic eeriness to Montserrat, although life carries on in the pretty villages and resorts along the coast, where black sand beaches are vivid against green jungle and rocky cliffs fall away into deep blue sea.
Verdict: Visitors to the 'Emerald Isle' of Montserrat generally come to see the volcano that wreaked havoc, and no wonder- it is an extraordinary sight. Because the volcano is still active, there is an exclusion zone covering much of the island. Hike up through the verdant rainforest to spectacular lookouts or the Volcano Observatory, or take a helicopter ride above the volcano, finishing the day watching the sunset from your yacht.
Guadeloupe
On Grande Terre Island, chic French eateries and bungalow resorts hide under the palms on desperately pretty beaches. Tropical fruit stands sell coconuts and pineapples under makeshift awnings, and painted fishing boats are pulled up on the shore, piled high with nets and coloured plastic baubles. So far, so relaxed. Yet Guadeloupe has a split personality: on Basse Terre, the mountainous western island in the Guadeloupe chain, you'll find rocky cliffs and exhilarating dives, and challenging hikes up into dense rainforest and up into the clouds.
Verdict: Guadeloupe is a fantastic place to visit on a yacht due to its white sand beaches yet epic potential for action and adventure. Its French-Caribbean way of life is full of charm, and you feel the stress just melting away…
Dominica
In 'Nature Island' Dominica, a huge crater lake boils on the top of a mountain, and plumes of sulphur and steam wind their ways through the jungle from the apocalyptic 'Valley of Desolation.' Sparkling waterfalls thunder through the rainforest into cool deep pools, and hot springs create natural baths where you can lie at night drinking spiced rum and watching the fireflies. On the coast, an old man walks along the sandy beach selling coconuts, slashing the top off with a machete to get to the cool water inside. All around, the volcanic cliffs fall away into deep blue waters that teem with large marine life, and hot bubbles fizz from the ocean floor, creating the famous Champagne Pools. In the north, a boat ride through the forest takes you back to a time of the Carib Indians, poling along the quiet river and deep into the interior.
Verdict: When it comes to nature, the Commonwealth of Dominica is hard to beat. This is a fairly undeveloped island with a strong focus on eco-resorts and adventure activities; hike, kayak, dive…or just relax under a waterfall in the jungle.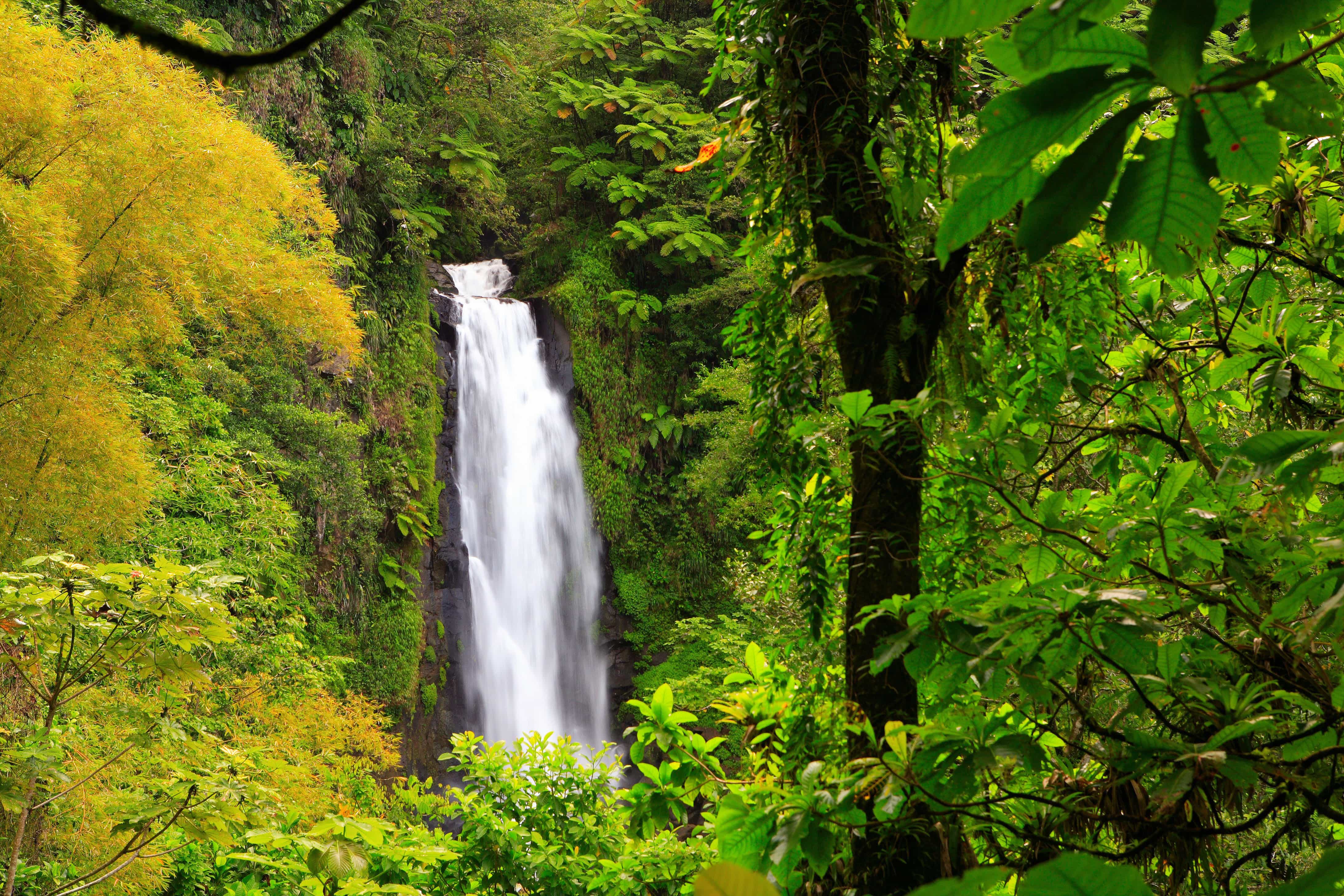 From mountains and jungles to coral atolls and glamorous beach clubs, the Leeward Island chain offers an almost bewildering array of beauty, culture and excitement. On your luxury yacht charter, you can set the program as you cruise between some truly heavenly scenery. However, with so much to see and do, it's fair to say that you may have to come back more than once.
For a suggested itinerary, please click here
Contributed by: Jo Morgan
Yachts available to charter here: