When you've "been there and done that"
Contributed by: Jo Morgan
In the mainstream press, yachting is made out to be a young person's game- often painted as the preserve of celebrities and beautiful people jetskiing around the yachts and throwing glittering parties. Meanwhile, yacht charter brochures tend to feature young families tearing about playing water sports, diving into the water from the upper deck and kids running helter-skelter along the beach.
From a distance, it all looks rather active. Does this mean that yachting vacations are best left for the young?
Absolutely not. There are few nicer ways to spend your twilight years than cruising around on a crewed private yacht. I once spent some time on a boat with a couple in their late 60's, and I've never seen anyone else take as much pleasure in their yachting holidays as they did.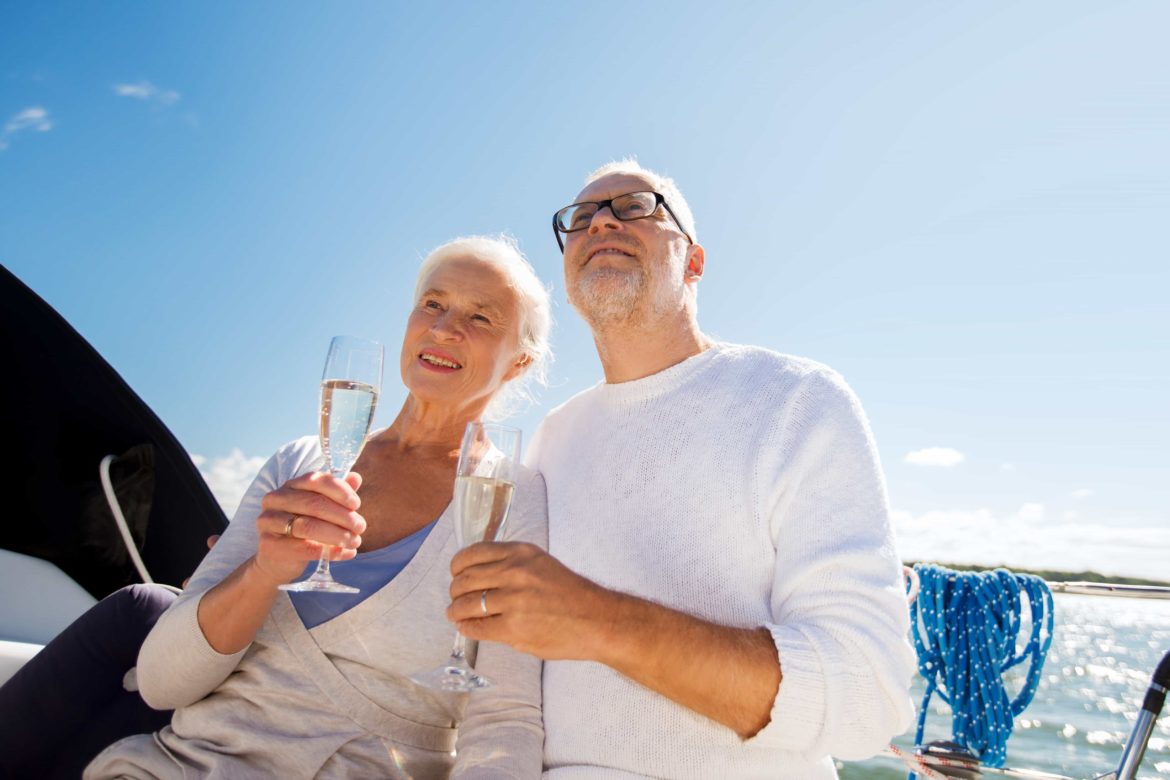 This couple were grandparents, but for the most part, they came on alone. They used the yacht very much as a floating home, on which they'd cruise from place to place, taking great pleasure each morning in researching what there was to do in each town. They'd get the deckhand to drop them ashore in the tender to explore each place: one day a medieval hilltop village; the next a ruined city, or taking a long walk through a pine forest on a midsummer's day. They'd visit art galleries and museums, shop for souvenirs, and arrive back at the boat in time for an early dinner. As they ate on deck under the setting sun, the captain would weigh anchor and we'd be off again, to the next beautiful destination. They seemed very happy.
At night they played board games or cuddled up on the sofa together to read books or watch movies. Sometimes they'd ask the captain to head into port when they felt like seeing other people or taking an evening walk along the quay to get an ice-cream; but mostly they didn't, choosing to stay at anchor in their splendid isolation.
Each morning they'd wake to another beautiful view, occasionally taking a gentle swim ashore for a walk on a deserted beach in the early morning light. They didn't really do many watersports though- the yacht was stocked with dive gear and snorkels and jetskis and all sorts for when their children and grandchildren came on board, but they barely used any of it. It was nice to go for a kayak occasionally on one of those glassy days at sea where the water looks like sheet metal, but for the most part they lay on deckchairs or sat at the shady sundeck table, reading papers, playing scrabble and passing the days.
It was all very easy.
They both still worked a few hours a day- running their successful businesses from the yacht- her in his study, him from an iPad and a mobile phone on deck. You'd see him looking around occasionally at the extraordinary setting of his office, or perhaps calling the stewardess to bring him another cold drink and some fresh-cut fruit.
Occasionally their family would come on board- and the dynamic would change instantly as three generations talked over each other and dive-bombed off the swim platform at all hours of day and night.  Huge, noisy meals and kids squealing as they ran around the normally quiet boat. The grandparents loved it, but they also loved it when everyone left again. There's nothing wrong with that, is there?
Yacht charters allowed them to travel, without any of the fuss, or inconvenience, or heat or planes or customs- it allowed them to travel to all the historical places they'd ever wanted to go, to watch all the sunsets and sunrises and all the world's weather reflected in the seas.  Catch up on all the unread books of a lifetime. And they could still work- their holiday, their remoteness, didn't matter- they were digital nomads- 'grey nomads' as the Australians affectionately call their wandering over-60's.
And the crew of course, were always around when they were needed, but never in the way. They had their private chef to cook meals for them specifically catered to their diets, and the stewardesses kept their cabins spotless and their laundry done. The captain and deck crew were there to drive the boat and show them extraordinary places, and the engineer was on hand to fix any problems (or more commonly, show them how to use the remote control for the TVs, blinds and air conditioning just one more time.) Once, when the gentleman was in poor health, he simply brought his GP along with him, and they stayed close to shore that trip until he recovered. They had everything they needed, and all in surroundings of complete safety and luxury.
I'm not sure I could imagine a more splendid way to spend your later years than on a luxury yacht, if you were the type to enjoy nature and beauty and all the world's wonders. Having friends onboard when you felt like it, having family on when you felt like it, but for the rest of the time, just you and your partner, floating from one exotic paradise to the next.